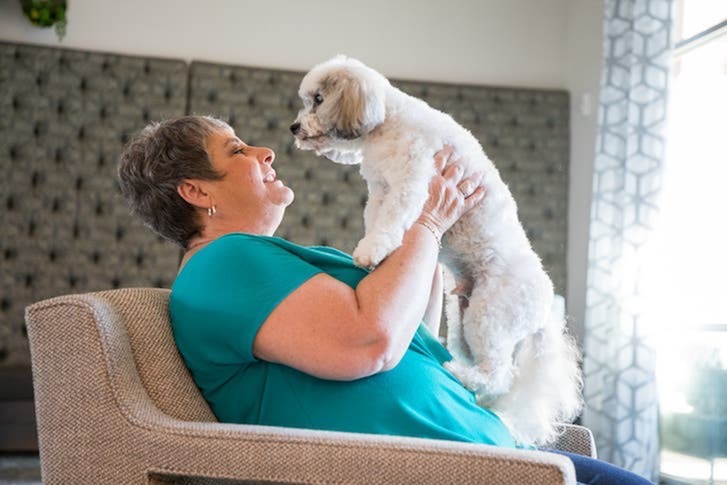 As Hank and Marla continue their quest to find the right active adult community, their rightsizing solution appears right in front of them, in the form of a new Overture 55+ apartment home location. The more they learn, the more they realize Overture is committed to creating the best active adult communities with world class amenities that include special accommodations for their special pet. To hear their pup Chancey tell it, as he does in this next excerpt, "they had me at dog park!"
"After a few weeks, Marla decided to revisit the condo idea but in a different location. She began to clip information about condos in surrounding areas and we resumed our Saturday and Sunday drives. If nothing else, I got used to driving in the car. Plus, I was out of the den so it was all good! I heard Marla say she and Hank were thinking of driving all the way to Pensacola, FL in the future and it would be helpful for me to get used to a long drive. I couldn't argue with that thinking.
In spite of our wonderful weekend drives, we came up empty. Just when they were ready to give up, they stumbled across a banner near Hank's office advertising a soon to be built community. It read: "Over 55+ active adult living apartments coming soon." Could this be our solution?
The next day, Marla called the phone number on the banner and spoke to a representative, who invited them to lunch the following day to learn about Overture. Hank cleared his calendar and they met the representative at the restaurant at the allotted time. I wondered what happened to Hank as he always comes home at lunch to give me my liver pill. I waited but he did not show up.
Little did I know he and Marla had gone to the restaurant and met two warm and friendly ladies who had already signed Overture leases. After lunch, the representative showed them a slide show of what the structure would look like when finished. She then listed the amenities that came with the rental.
Hank and Marla loved the idea that this was a rental open only to residents 55 and older. There would be no younger population to take over the gym or pool and no worries about wild, noisy apartment parties. They were invited to tour the project the following day. Donning hard hats, they walked through the partially built structure imagining the finished product. They inspected a fourth-floor unit that Marla had shown an interest in. It had two bedrooms, plus a study and there was going to be a balcony! Once they heard it came with a dog park, covered parking, and affordable rent, they knew it was exactly what they were looking for. Did I mention the dog park?
The representative suggested Hank and Marla visit Overture Sugar Land to see a completed community. They left the future Overture Tanglewood and drove down Highway 90 to Overture Sugar Land.
All the while, I was at home alone, sitting in the kitchen, missing another lunch and my liver pill. Whatever they were doing, I was sure it was pretty important!
Overture Sugar Land sat on a new boulevard across from a baseball field. It was four stories and unlike Tanglewood, had first floor living with private attached yards. The amenities were the same, breakfast in the morning, a movie room, a full gym, a game room and a large dog park in the rear. This was perfect. As much as they loved the future Tanglewood community, Sugar Land offered first-floor living which would make taking me to the dog park a breeze.
After mulling over the options at home, they decided to go back to Sugar Land for a second look, this time with yours truly. We checked out a bright and airy apartment on the ground floor with two bedrooms and its own yard. Immediately I knew this was it! I even named the yard. I would call it Chancey's Yard! Of course!
Fortunately, Hank and Marla shared my conviction that this was the perfect place for the three of us to "rightsize!" Their only concern was the distance from our current neighborhood but when they realized Highway 90 gave easy access, the deal was done!
In his next excerpt, Chancey marvels at all the wonderful amenities Overture has to offer to all its residents, two-legged and four-legged alike.