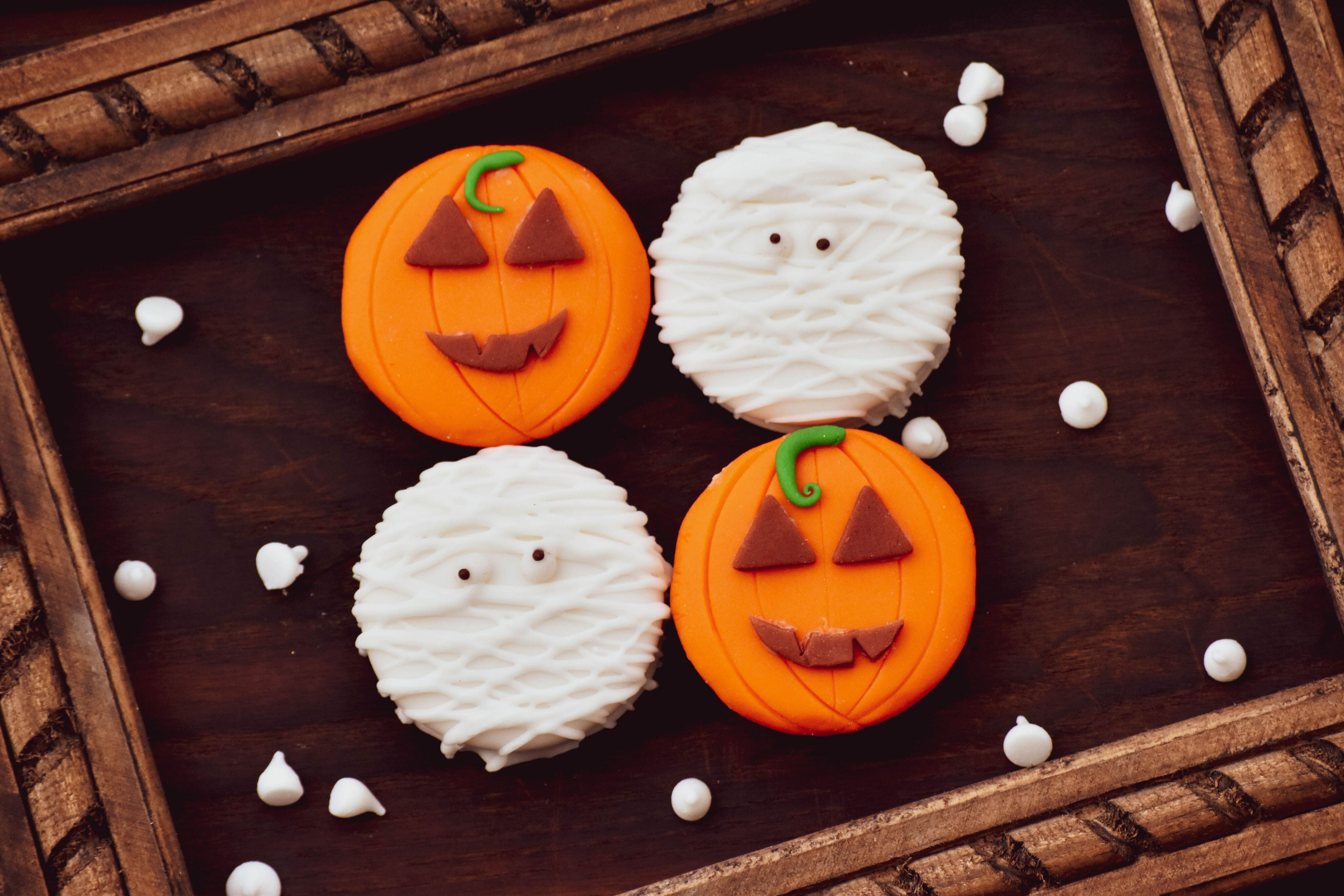 The end of October is significant for several reasons. We notice the air finally has a bit of a bite to it. We feel the eerie presence of the Halloween spirit. But more importantly, once the first little ghost or goblin yells "trick or treat," it is officially junk food season. The overindulgence of sweet treats typically lasts until just after New Year's when we repent and vow to stick to an unrealistic austerity plan forever.
While pondering Halloween outfits, it's also right around now we start mulling the age-old question: Why is there such a huge gap between healthy food and food we actually crave?
And of course, the obvious follow up question: Why isn't chocolate the single most essential element of a healthy, life enhancing diet? What a wonderful world that would be!
The good news is, even though we don't live in that food fantasy land, it's possible to create healthy Halloween snacks that we can consume with pleasure – and without guilt.
Kick off snack season with any one of these delicious and healthy Halloween treats.
Olive Cream Cheese Spider Bites
Combine olives, and gluten free crackers with cream cheese, and voila! A healthy Halloween recipe that is seasonally relevant and delicious. And the best part is they could not be easier to make.
Spread a little cream cheese on each cracker. Cut the pitted olives in half. Use one half for your spider's spooky body and thinly slice the other half into six slices. Assemble the legs and body on the cracker and enjoy! For those who are dairy free, substitute Kite Hill dairy free cream cheese.
Bell Pepper Monster Eyes
Your Bell Pepper Monster Eyes will delight friends and family. For this treat you'll need a circle cutter to create circles from your bell pepper slices. Top the circular pepper with cream cheese. Again, feel free to use a dairy free version. Slice your pitted olives into ¼ inch wide pieces and place an olive on the cream cheese so some peeks through the olive's pit opening. When it comes to healthy Halloween snacks, the eyes have it!
Candy Corn Fruit Parfaits
For those of a certain generation, candy corn is basically synonymous with Halloween. Your friends will love Candy Corn Fruit Parfaits, a treat that offers all the nostalgia of childhood without the processed sugar. You will need pineapple bits, mandarin oranges and the dairy or non-dairy whipped topping of your choice. Layer them, in the above order, in a small plastic cup. Your Candy CornFruit Parfait is ready to serve. Healthy, delicious and easy as opening up a bag of actual candy corn. You can certainly decorate each parfait with one piece of candy corn for tradition's sake.
Peanut Butter Apple Monster Teeth
Healthy Halloween treats don't get any creepier – and easier to make - than Peanut Butter Apple Monster Teeth. The recipe calls for green apples but yellow or red will do just fine as well. You can also use any kind of nut butter or sunflower seed butter as a substitute for peanut butter. But you will need sunflower seeds to create the best "teeth." Simply slice the apples. Put a spoonful or two of your chosen nut butter in a small Ziploc bag and cut a hole in it. Squeeze the nut butter onto an apple slice. Top with another apple and squish them together. Place the sunflower seed teeth along the peanut butter. It's a great alternative to caramel apples and both the young and young at heart will get a kick out of them.
Book a tour at the Overture active adult community of your choice today. A warm and welcoming community can't wait to share their healthy tricks about treats with you.
Happy Halloween!