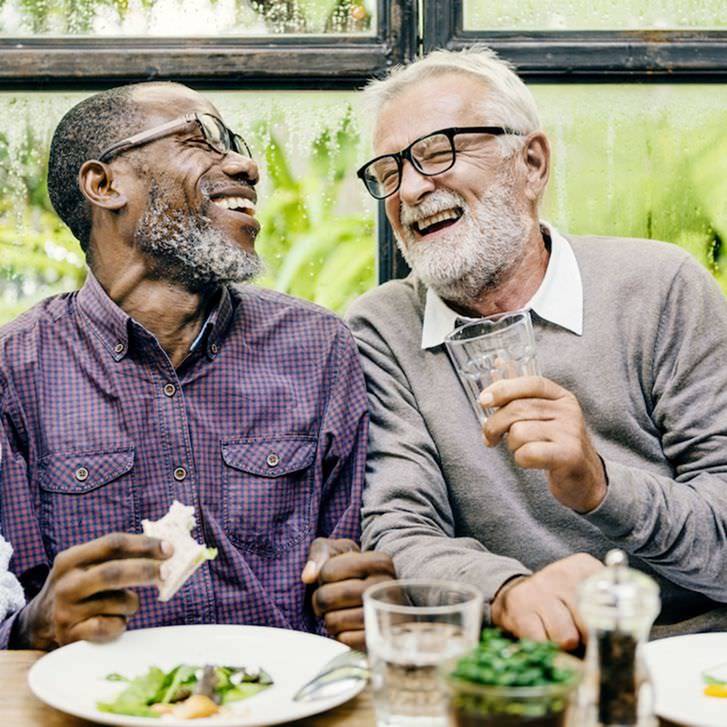 Remember the first time you faced the challenge of any first-time social situation? First day of school, first date, first time walking into a room full of strangers at a school meeting or party for the kids? Putting yourself out there socially always requires a little bravado, but the rewards are more than worth it. In fact, as an active adult, the health benefits of social interaction go far beyond fun and friendship. Statistics show your social life has a critical impact on both physical and emotional wellbeing.
Active adult communities take your social life seriously, offering full schedules of activities that facilitate and nurture relationships between residents. But even in that kind of supportive environment, if you are dealing with the loss of a spouse, coping with physical ailments or limited mobility, or processing the major life changes that come with active adulthood, facing a new social scene can be daunting. Here are a few tips to get you socially motivated. Once you get your feet wet, you'll be ready to dive in off the high board.
Just Say Hello
A friendship starts with hello. Chances are there are people that you see on your daily errands or in the neighborhood that are potential friends. When you recognize regulars at the market, don't be afraid to smile and strike up a conversation. If you have just moved into a new active adult community, knock on your neighbor's door and introduce yourself. You may not be the most outgoing member of the group, but if you show interest in the people around you, they will respond.
Be Open Minded
Would your kids say you've become set in your ways? It's too easy to get stuck in a rut that leads to life by default. After all, you've been around the block and have definite opinions about what you like and don't like. The good news is, new opportunities may bring out new sides of your personality. When it comes to trying new experiences, just say yes! You may surprise yourself with your newfound joy and enthusiasm as you explore new avenues. The great news is you will be sharing these new adventures with like-minded peers who will soon become new friends.
Log On
If you've ever seen two young adults on a date so focused on their phones they don't even know they have company in front of them, you know technology has its downside. However, when it comes to staying in touch with out of town family and old friends, technology can be an indispensable tool. Facetime with the grandkids and set up a Facebook profile to see pictures and stay current on what's going on in their lives. Don't forget, as more and more active adults are discovering, technology can also be a great resource for romantic connections.
Exercise Your Mind
Broaden your horizons with a book club, community college class or lecture series. You will receive the double bonus of sharpening your mind while meeting others who share your intellectual curiosity. After the event, join other participants for a cup of coffee or cocktail to discuss what you've learned.
Fake It 'Til You Make It
At first, being proactive about getting socially involved may feel like a huge effort. But once you gain confidence, that positive attitude will be the key to reaping the health benefits of social interaction. So, take a deep breath, put a smile on your face, and get ready to make this the time of your life.