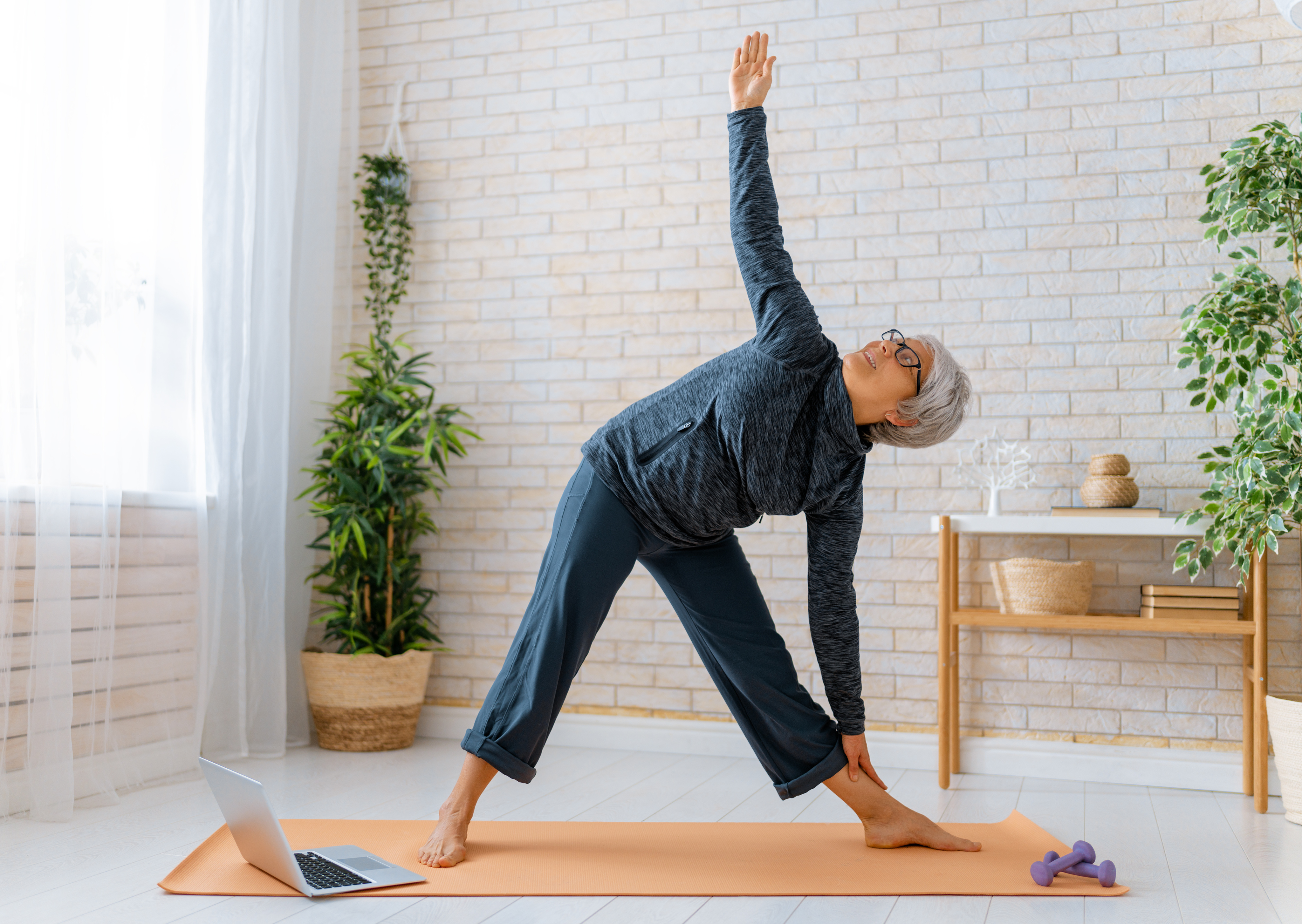 To call active adults creative and resilient is a gross understatement. So, clearly, it takes more than a little worldwide pandemic to keep active adults from staying fit. That said, for most, working out looks a little different than it did this time last year. Instead of breaking a sweat at the gym, it's either walking endless laps around the neighborhood or finding ways to exercise at home. The shift in locale comes with both good news and a caveat. The good news: There is no traffic on the way to the living room. The caveat: An improvised environment makes safety even more important. Here are some tips for working out at home to help prevent injury during exercise.
Clear the Clutter
Before beginning any home workout, make sure you have the space to do the workout you plan. Do a 360-degree turn in the designated area and spread your arms both up and out to the sides. Nothing worse than flinging out your arms in the heat of the workout and banging them into a wall. Check the floor for any extraneous items. Grandkids' toys, books, weights, and other random, normally harmless items become objects of peril that can send you to the ER if you trip and fall over them. If your workout involves lifting weights, keep them in front of you so you can keep a constant eye on them.
Sack the Socks
Slip-on some workout sneakers for both traction and support, or exercise in bare feet. It's best to avoid socks that can be dangerous on slippery floors. If you must wear socks, try to find a pair with grips on the bottoms.
Know Thyself
Have you been working out regularly? Are you kick-starting your fitness program after a long layoff? There are so many great free virtual workout programs to choose from. It's important to find one that is compatible with your fitness level and any existing injuries. If you are just beginning to exercise, take it slowly to gradually build up your strength and stamina. If you're trying to recreate the benefits of your regular gym routine—without the benefits of the actual machines--resist the instinct to push harder. Do…but don't overdo. If you find a workout online that looks appealing, watch it first to determine its appropriateness. A little caution at the beginning can avoid a serious injury at the end.
The Old Switcheroo
High on the list of workout safety tips is to avoid stressing the same muscles every day. In fact, experts recommend taking off a day or two a week to rest and recharge all the muscle groups. If you are a 7-day a week workout enthusiast, varying your workouts will protect your body from wear and tear and overuse injuries.
Strengthen with a Smile
With all the different types of fitness programs available online, working out at home can and should be fun. For company and camaraderie, join a zoom class and share the experience with other senior workout aficionados. Work out with your favorite music or TV show in the background or facetime the grandkids and show them how Grandma and Grandpa shake their booty.
We have risen to the challenge of finding imaginative workouts for seniors at home. With a little planning, we can safely continue to do so, stretching, strengthening, and aerobicizing our way to fitness without even leaving the house.