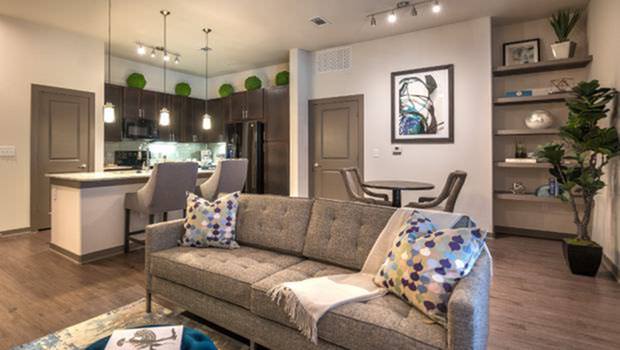 It is exciting moving into an Overture community and apartment, and provides an opportunity to express yourself in a new way. What are some tricks of the trade we designers use?
There are so many ways residents of one of Overture's Active Adult communities can personalize their apartment to make it their own. Oftentimes, new residents will be moving from a single-family home, which can mean purchasing new key pieces of furniture. Keeping these key pieces, such as sofas and chairs in a neutral color allows for the use of accent items, such as pillows, throws or art and accessories to be brighter and more colorful. This also allows the accent pieces to change with the seasons or with a resident's mood. The use of tabletop frames for pictures mean these can be easily changed or updated to reflect family events or exciting travel memories. Residents may want to consider pieces of furniture that are multipurpose, such as a coffee table that doubles as a storage cabinet, or an ottoman with storage space inside. And an accent wall in an vibrant color can also add cheer to a room.
Different types of lighting, including floor lamps and table lamps, allow for various lighting levels and moods throughout the day. LED light bulbs in these lamps can be chosen for color temperatures most agreeable to the resident—some can even change their color temperature by use of a dimmer, so residents can match the lighting to their mood.
Overture's apartments themselves are laid out in a way to maximize space. The overall room layout is very flexible, with kitchens that open into the dining and living area, allowing for entertaining and socializing during meal preparation. Flex spaces or secondary bedrooms can easily be outfitted as an office, a craft or sewing room, a reading room or an exercise room. Or these rooms can serve multiple functions at different times of the day, changing from one use to another as needed.
One of the most striking advantages of the Overture communities is that because of all the amenities the residents enjoy in the common spaces—chef demonstration kitchens, sitting areas, media rooms and game rooms—residents have no need to recreate these spaces or functions in their apartments These spaces serve as an extension of their homes, and provide ample and valuable opportunities for socializing with neighbors. These sorts of amenities truly make Overture communities, in the best sense of the word. The resulting camaraderie and cheer these spaces bring to residents make for a pleasant transition from living in a single-family home to a community where interaction with neighbors happens not just daily, but throughout the day.