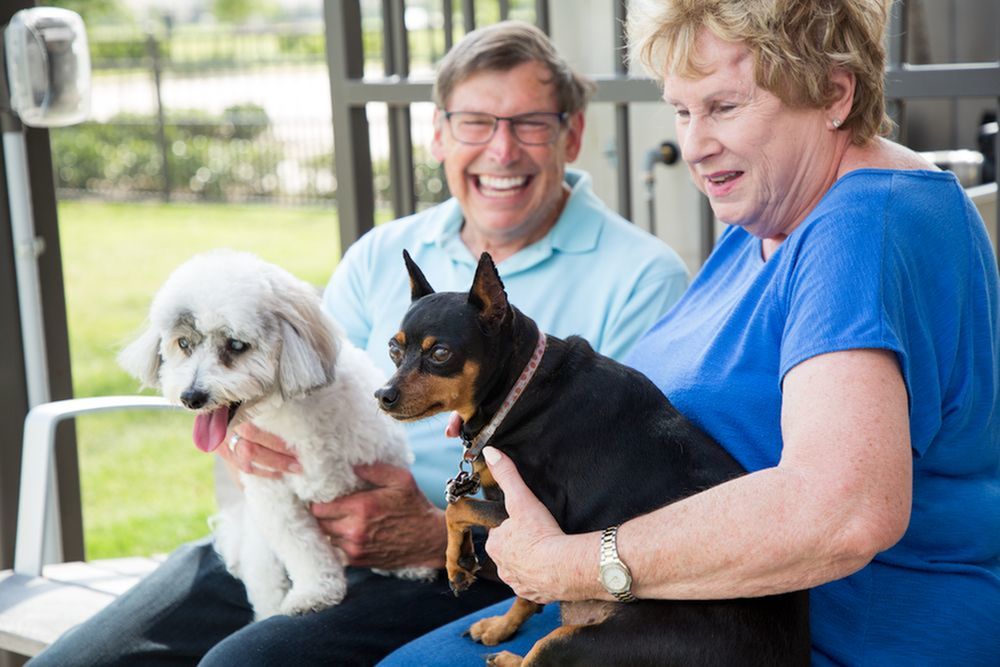 Hank and Marla had reached a crossroads. Their big townhouse with its multiple floors was just not working anymore. Could they modify the home with an elevator and stay put, or had the time come to move? Finding themselves between an elevator and a hard place, Hank and Marla quickly realized when it comes to downsizing for seniors, there are a lot of issues to consider. When to downsize and moving into the right type of environment takes planning and research. Like Goldilocks, Hank and Marla discovered there is some trial and error necessary before finding the solution that's "just right!" Chancey, their beloved, blind dog was so inspired by their quest to find the perfect next chapter he decided to write a book about it. In this excerpt, he explores the ups and downs—of elevators and other things.
I had finally adjusted to the house when Hank and Marla had to make a critical decision. They would either have to do something about the stairs or move. Unhappy at the prospect of being uprooted and exposed to some alien living space, I was relieved when Hank and Marla chose renovation over relocation.
The duplex Hank and Marla lived in was supposed to be "elevator ready." What exactly did that mean? Turns out it meant the house was built with three closets on top of each other and a place on the electrical box designated "future elevator." Hank called a company to come out and give an estimate for the installation of an elevator. How cool would that be? I always loved riding up and down in those things!
But before there could be an estimate for the elevator unit, the representative had to examine the closets, the electrical box and the base of the first-floor closet. The findings were less than optimal. First of all, there was no pit in which to house the elevator equipment. That meant the equipment would have to be in the attic. And that meant the attic would require a $75.000.00 expansion. The elevator cab would run another $25,000.00 and the permits, electrician, and annual maintenance contract another $15,000.00. There would, of course, be an additional cost for the requisite emergency phone service so Hank and Marla could get us out if we got stuck! All that added up to—you guessed it—no elevator and for me, a new living space to deal with.
So, Hank, Marla and I set out to find our new home. I was thrilled to be out in the car after being confined to the den. Riding in the car was always one of my favorite activities—as long as we weren't going to the vet! We started out looking for places close by. Hank and Marla thought it would be better for me. But, between us, that was all in their heads. It really didn't matter to me, which was fortunate since all the homes near us were basically like ours and not what we were looking for.
We wanted to rightsize into a home with no stairs, less square footage, and no homeowners association fees. The farther we drove the more condos we saw that appeared to be just what we wanted.
The good news: An 1800-square foot condo in the Museum district in downtown Houston was selling for an average of $400,000. The sale of our duplex would generate enough to pay for more than half of the condo and interest rates had dropped to an all-time low. Hank and Marla were on board and as long as it had a yard and elevator, I was in! Then came the bad news: Yearly condo fees of $40,000.00. The condo was out.
Next, we looked at a new apartment project down the street from our duplex. It was a really nice, roomy apartment on the second floor with a gym, mail room and little dog park for yours truly in the back. The apartment was furnished and at the end of the lease term, Hank and Marla would own the furniture. I was only interested in the elevator and dog park, so it was fine with me.
Hank wanted to see the gym, so we were taken to the main floor where the gym is located and were greeted by a group of twenty-somethings working out. Hank overheard them planning a party for later that evening. The festivities would be in an apartment on the same floor as the one shown to us. When Hank asked about apartment parties, he was told that tenants were allowed to entertain in their apartments or around the pool. Hank took a copy of the lease to review and then he and Marla came up with a plan. They would come back later, unannounced to get a sense of what it would feel like to be at home with a party going on down the hall. Their scouting mission revealed full-on partying complete with loud noise and blaring music. The verdict was a no brainer. This scene was not for their generation.
Even though the apartment was already off the table, they did go back a few days later to observe the activity at the pool. I heard Hank say he didn't mind the young girls in those skimpy outfits at all. I think he was kidding although, it didn't seem like Marla thought it was funny. Humans.
So, no condo. No apartment. We were right back where we started. Were they going to consider the elevator again? All fine with me. I was ready to go up and down.
As the journey continues, Chancey, Hank and Marla find out that downsizing for seniors can be a joyous adventure in a community designed specifically for them. In his next installment, Chancey gets excited by a long, fun car ride and the perfect apartment at the end of it.