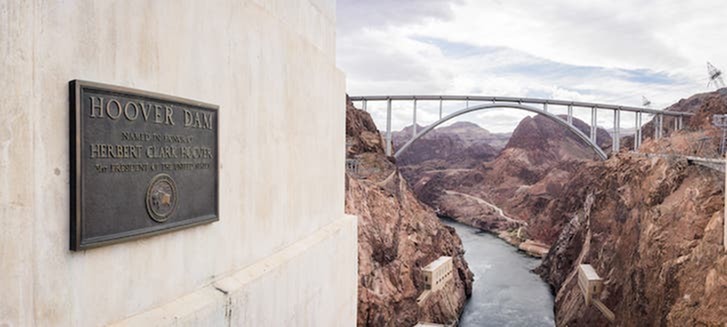 It's a pretty safe bet that most people view Vegas as mainly a mecca for gambling and bachelor/bachelorette parties. In fact, odds are, seniors are unaware of the long list of must-sees in Las Vegas that have nothing to do with rolling the dice or partying. From the entertainment on the strip, to unforgettable day trips, Las Vegas for seniors offers a smorgasbord of both indoor and outdoor adventures.
Check out these Las Vegas activities for active adults. No matter which ones you choose, you'll go home a winner!
Hoover Dam is a National Historic Landmark and recognized by the American Society of Civil Engineers as one of America's Seven Modern Civil Engineering Wonders. Built in the 1930s, it has played a major role in the development of the southwest. Visiting this imposing structure is enhanced by tours and an informative visitor's center that highlight its history and the fascinating story of its construction. The ride from the strip will take a little over half an hour and the experience will be memorable.
Enjoy Las Vegas' welcoming weather and stunning scenery as you take a leisurely motorized raft tour down the Colorado River. Catch a glimpse of Hoover Dam and majestic Bighorn sheep as you enjoy a relaxing journey.
If you'd rather experience the outdoors on dry land, head to the Red Rock Canyon National Conservation Area just outside the city. Opportunities for hiking, biking and nature watching abound in this Mojave Desert playground. Sandstone cliffs, rugged red rock formations, desert vegetation, and ancient rock art sites dazzle the eye. The interactive visitor center will both educate and inspire.
Get to know the likes of Al Capone, Tony Spilotro and Whitey Bulger and get the real story of organized crime in America as you explore the Mob Museum's three floors of unique artifacts, exhibits, theater presentations and interactive displays. They didn't call Vegas "Sin City" for nothing!
Vegas is the city of flashing neon lights, but where do those iconic cultural symbols go when new ones take their place? Founded in 1996 the Neon Museum documents Vegas' colorful history by preserving those classic signs for educational enrichment. The museum features a 2-acre campus with a visitor's center and a large outdoor exhibition space called the Neon Boneyard.
Associated with the Smithsonian, The National Atomic Testing Museum unravels the history of atomic weapons testing during the 1950s. The museum stands as a monument to the testing that was done in Nevada both above and below ground for decades.
You don't have to stray far from the casino to find an activity at what is commonly called the best Vegas hotel for older adults. The Bellagio boasts a world-famous conservatory and botanical gardens featuring the work of a global assortment of renowned visual artists. Stroll through the gardens, then visit the art gallery which houses a permanent collection as well as traveling exhibitions like the authentic Samurai armor currently on display.
Whether you spend the day at the blackjack table, river-rafting, museum hopping or relaxing by the pool, it's nobody's business but yours. So, when the kids ask, just tell them what happens in Vegas, stays in Vegas! Just think, if you were living at one of our Las Vegas 55+ active adult living communities, all these amazing activities would be just a stone's throw away.